Desperate Mahesh .. Check for Controversy with Iconstar?
Mahesh Babu's tweets praising Allu Arjun's 'Pushpa' are now becoming a hot topic not only on social media but also in Tollywood. Provoke some interest. On this occasion a new discussion came to the fore. 
Tug of war took place two years ago between icon star Allu Arjun and superstar Mahesh. It's just a box office war. Bunny starrer `Ala Vaikunthapuramulo` and Mahesh starrer` Sarileru Nikevvaru` have been released with a gap of one day for Sankranthi 2020. The two competed at the box office on that occasion. It is a privilege to have this competition as Nuvva Nena.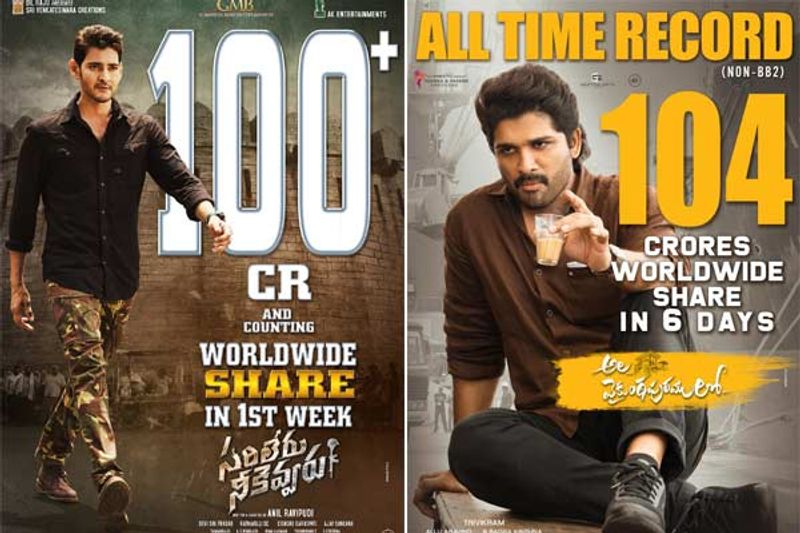 The makers of the two films .. competed and announced the collections. One hundred crores, 150 crores, 200 crores, 250 crores. There is no correlation between the collections that actually came in and the collections that Vail announced. In the process, the comments that Mahesh and Bunny are bad have gained momentum. Talk was heard that the gap between the two had widened. This widened the gap between the two heroes' fans. They are crushing each other on social media. The controversy was also checked with Mahesh's tweet.
In fact, from the beginning, there was never a friendly atmosphere between Maheshbabu and Allu Arjun. Mahesh mostly moves close with NTR and Ramcharan. Snow also has a good friendship with Vishnu. Bunny, however, does not appear to have met with any of the other heroes except in movie time. Although he attends out as a guest, there are very few instances where he moves close with the heroes. Mostly with the Mega Family. 
There is no real close relationship between Mahesh and Bunny. The news that there was a further gap between the two with the box office war going on over has gained momentum on social media. It was rumored that something had happened between the two as the makers of the two films acted accordingly. In this context, Mahesh checked the rumors. Mahesh is finally upset. Allu Arjun praises 'Pushpa' 
Allu Arjun plays the role of `Pushpa 'in an amazing, original and sensational performance. Director Sukumar's film Raw, honestly shot in a rural setting. His class proved to be different. What to say about Devisree Prasad. You really appreciated being a rockstar. Mahesh congratulates Maitree Movie Makers and Pushpa team. Mahesh's tweets are currently circulating on social media. Are becoming a hot topic. Are surprising everyone. 
Allu Arjun reacts to Mahesh's tweet. Thanks to Mahesh. `My acting related to the floral world, everyone's work so glad you like it. A heart-warming compliment. "With humble love," Bunny tweeted. Right now these tweets are making fans of both heroes happy. It can be said that the gap between them has been checked. 
Mahesh is currently starring in the film `Sarkaru Vari Pata`. The film is directed by Parashuram and stars Kirtisuresh in the lead role. The film manages to entertain as well as inform. It is learned that the film is set against the backdrop of bank scandals. Preparing for release in April. The `floral` image on the other hand comes with huge collections. It is said to have reached three hundred crores. Moreover, it has created a sensation by collecting over 70 crores in Hindi alone.